Proudly serving Northern Virginia for more than 12 years.
Leave the lawn and yard work to us!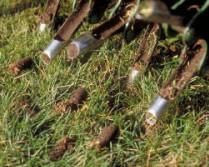 Contact us for lawn aeration and seeding services!
We can take care of your one-time landscaping needs, or provide regular lawn and landscaping services.
Contact us at (571) 991-6586 or via the form below.
---
Power washing services: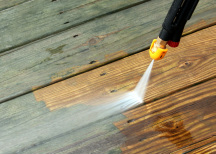 LIMITED TIME OFFER: 10% off deck, driveway, patio, and sidewalk power washing services, and deck sealing services.
We offer straight-forward pricing.
Contact us today at (571) 991-6586 or via the form below.
---
---
RECOMMENDATIONS

"EKO-Lawn is incredibly easy to work with. Scheduling is flexible and Kevin is very responsive. On several occasions we've had guests coming in town and wanted a last minute mow so everything would look nice for our visitors. Kevin has always been able to accommodate us. He's also given us advice on landscaping, including how to boost the performance of our azaleas. Thank you!"
- Kelly M., Arlington, VA


"I want to thank EKO-Lawn for all the help they have given me with my lawn. I always had the worst troubles with crabgrass in the months of July and August but no more! EKO-Lawn picked the perfect service package that fit my lawns needs and now I have much less to worry about. Now, I just wish my next door neighbor would do the same! Thank you, EKO-Lawn!"
- Byron F., Manassas, VA


"In one word, my experience with EKO-Lawn, LLC was EXCELLENT. They did an outstanding job on a very difficult, extremely, overgrown lawn 1 acre in size. They were professional, efficient, dependable, and very reasonable. I cannot say enough good things about their service."



Zoila O., Fairfax, VA

---
We provide services in Northern Virginia





Eko-Lawn strives to provide excellent customer service to achieve long-term relationships with our clients.




---